4. Temps et espace dans l'hindouisme
Source 1
La Trimurti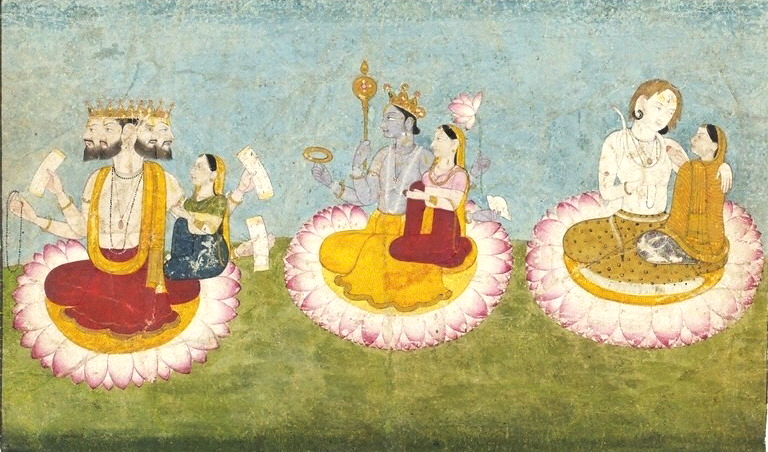 Représentation de la Trimurti (litt. "trois formes"), qui dépeint les trois divinités (de gauche à droite) Brahma, Vishnou et Shiva, avec leurs épouses Sarswati, Lakshimi et Parvati. Ces trois dieux symbolisent les trois fonctions du flux cyclique du temps: la création (Brahman), la conservation (Vishnu) et la destruction / assimilation (Shiva).
Source 2
Le mythe de la création à partir du lotus de Brahma
Représentation de l'une des versions les plus célèbres du mythe de la création hindoue, dans lequel Vishnou, ici représenté comme personnification de Brahman, l'Absolu, repose endormi. Pendant son sommeil, un lotus germe de son nombril. Lorsque ce lotus s'ouvre, il contient la divinité Brahma, qui commence à créer le monde.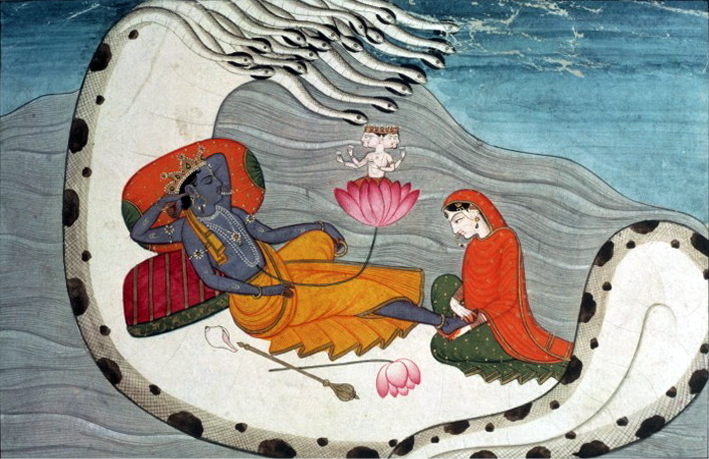 Photo of "Vishnu and Lakshmi"
Anonymous ca. 1870, Kangra, India Painted in opaque watercolour on paper
Victoria and Albert Museum. Retrieved at
http://en.wikipedia.org/...File:Vishnu_and_Lakshmi_on_Shesha_Naga,_ca_1870.jpg (26/09/2014).