5. Den østlige, ortodokse kirkes opståen
Indledning
Slutningen af 400-tallet indledte enden på den romerske verdens enhed: fra 395 eksisterede et vestromersk kejserrige side om side med et østromersk, indtil førstnævnte i 476 faldt undre pres fra barbariske invasioner, mens sidstnævnte, som historikere har kaldt det "byzantinske rige", holdt ud, indtil det blev erobret af osmannerne i 1453. Derfor udviklede kristendommen sig i forskellige politiske og sociale miljøer og retninger i det byzantinske, græske øst og i det latinske vest, og de religiøse forskelle blev gradvist mere markante. .
Kilde 1
Det trullanske koncils dekreter
Det sjette økumeniske koncil, også kaldet det andet trullanske koncil, (692) spillede en vigtig rolle i afgrænsningen og beskrivelsen af praksisser særlige for den byzantinske eller ortodokse kirke. Dette koncil, som fandt sted i en sal med et kuppelformet loft (ordet "trullo" henviser til en særlig slags bygning med kegleformet tag) i kejserpaladset i Konstantinopel, tilendebragte det femte og sjette økumeniske koncil (det kaldes "femte-sjette"; quinisextum på latin eller penthékte på græsk), også kendt som Konstantinopel II (553) og Konstantinopel III (680-681), ved at indføre dekreter om religiøse skikke og gejstlig disciplin. Da koncilet bestod udelukkende af biskopper fra den østlige gren af kristendommen, var det med til at fastlægge den byzantinske kirkes skikke som standard for de orientalske kirker. Koncilet blev pure afvist af Pave Sergius I (regent 687-701) på grund af dets "fejlagtige nyskabelser"; det anerkendes ikke af den katolske kirke, mens den ortodokse kirke betragter det som uadskilleligt fra det femte og sjette økumeniske råd. Nogle af de omstridte praksisser blev gradvist kendetegnende for forskellen mellem de to kirkelige retninger. Mens den romerske kirke var i stand til at påtvinge sine præster cølibat, bekræftede det trullanske koncil gifte mænds mulighed for at blive præsteviet. Skikken med at faste om lørdagen, som praktiseres i den latinske kirke, blev afvist af den byzantinske.
"Chapter - 13. Since we know it to be handed down as a rule of the Roman Church that those who are deemed worthy to be advanced to the diaconate or presbyterate should promise no longer to cohabit with their wives, we, preserving the ancient rule and apostolic perfection and order, will that the lawful marriages of men who are in holy orders be from this time forward firm, by no means dissolving their union with their wives […]
22. Those who are ordained for money, whether bishops or of any rank whatever, and not by examination and choice of life, we order to be deposed as well as those also who ordained them.
23. That no one, whether bishop, presbyter, or deacon, when giving the immaculate Communion, shall exact from him who communicates fees of any kind. For grace is not to be sold, nor do we give the sanctification of the Holy Spirit for money; but to those who are worthy of the gift it is to be communicated in all simplicity […].
36. Renewing the enactments by the 150 Fathers assembled at the God-protected and imperial city, and those of the 630 who met at Chalcedon; we decree that the see of Constantinople shall have equal privileges with the see of Old Rome, and shall be highly regarded in ecclesiastical matters as that is, and shall be second after it. After Constantinople shall be ranked the See of Alexandria, then that of Antioch, and afterwards the See of Jerusalem […].
55. Since we understand that in the city of the Romans, in the holy fast of Lent they fast on the Saturdays, contrary to the ecclesiastical observance which is traditional, it seemed good to the holy synod that also in the Church of the Romans the canon shah immovably stands fast which says: "If any cleric shall be found to fast on a Sunday or Saturday (except on one occasion only) he is to be deposed; and if he is a layman he shall be cut off."
Canons of the Council in Trullo, oversat af H. R. Percival i Nicene and Post-Nicene Fathers vol. 14,
Kilde 2
Ikonostasen er en væg fyldt med ikoner, der fungerer som rumdeler mellem kirkeskibet og alterrummet. Alterrummet er den del af kirken, hvor alteret er placeret; det er den helligste del af kirken, hvortil kun gejstlige har adgang. Rumdeleren efterligner templet i Jerusalems grundplan, hvor det allerhelligste, et indre helligsted, hvor Pagtens Ark blev opbevaret, var adskilt fra resten af tabernaklet med et forhæng. Selve alterrummet er placeret på et ophøjet område kaldet en "bema". Ikonostasen er placeret på trapperne og en lille smule inde i bemaen, hvis grænse ud mod kirkeskibet markeres med en barriere. Den del af bemaen, der stikker frem fra ikonostasen ud til barrieren kaldes en "solea", og her står de gejstlige, når de tiltaler de troende. Ikonostasen når ikke op til loftet, så de troende kan høre den del af gudstjenesten, som finder sted i alterrummet. I midten er de hellige døre, også kaldet de kongelige døre, som står åbne under gudstjenesten. De omgives af til højre (set fra tilskuerens synspunkt) et ikon af Kristus Herren og til venstre et ikon af Jomfru Maria med jesusbarnet ("theotokos", et græsk ord, som betyder "gudeføderske"). Resten af rækken viser helgener, som regel de helgener, der er knyttet til den enkelte kirke. Oven over de hellige døre findes en fremstilling af "det mystiske måltid", den sidste nadver. Nogle ikonostaser har flere vandrette rækker af billeder, hvor anden – nogle gange tredje – række (som er rækken over den nederste med dørene) som regel er helligdagsrækken, dedikeret til de vigtigste kirkefester i årets løb, og den tredje – nogle gange anden – er deesisrækken eller forbønsrækken, som er helliget apostlene (Kristus, Jomfru Maria, Johannes Døberen samt ærkeenglene Michael og Gabriel og de to apostle Peter og Paulus).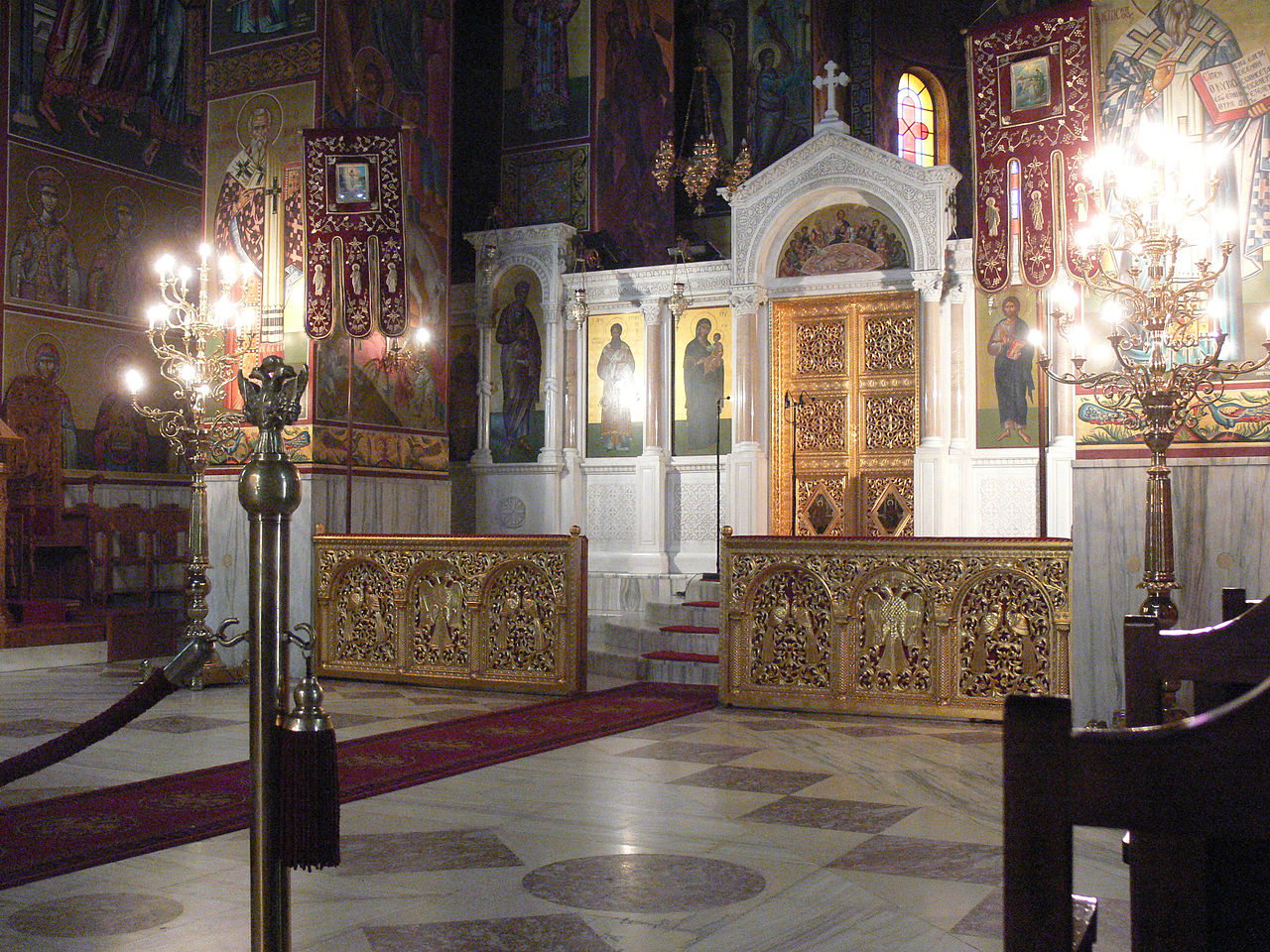 Ikonostas i Sankt Gregor Palamas kirken (Thessaloniki)
Hentet fra:http://commons.wikimedia.org/wiki/File:07Thessaloniki_Metropolitan04.jpg